Resources
ICIVS faculty and students have access to Emory's substantial library holdings in the history, cultures, languages and literatures of Islam, from the rise of Islam to the present.  This collection of books, online materials and journals is currently comprised of more than 39,750 titles.
ICIVS faculty maintains close relationships with colleagues in the same or similar fields at nearby institutions such as the University of Georgia and Georgia State University.  In addition, they are active members of the Southeast Regional Middle East and Islamic Studies Seminar (SERMEISS), a regional sub-group of the Middle East Studies Association (MESA).  Faculty and students also benefit from Emory's membership in the Carolina-Duke-Emory Institute for the Study of Islam (CDEISI).  The American Academy of Religion (AAR) brings thousands of professors and students, authors and publishers, religious leaders and interested laypersons to its Annual Meeting each year.  The Center for Arabic Study Abroad (CASA) offers advanced level training in Arabic language and culture, at the American University in Cairo and Qasid Arabic Institute in Amman.
The ICIVS program is grateful to Emory alumna, Dr. Amanda Rogers for compiling useful information regarding professional resources and media resources.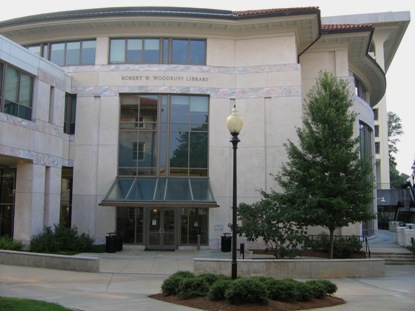 Photo by Juana Clem McGhee
Woodruff Library, Emory University in Atlanta, Georgia, USA